Everything You Need To Know About This CBDC!
This post is a review of eNaira, the proposed Nigerian Digital Currency.
It is no longer news that the Nigerian government plans to launch its digital currency on the 1st of October 2021.
But what exactly is the eNaira? And how will this project affect the Nigerian economy? 
As you read on, you'll find answers to these questions and more.
Let's jump right in!
---
Post Outline
Click on any item above to read its content immediately. Enjoy!
---
1. What Is eNaira?
eNaira is the proposed Nigeria's Digital Currency. 
It has the same value as the fiat naira and will serve similar purposes.
You can view it as the digital representation of the Nigerian naira.
It has a non-interest-bearing status and a transaction limit. (more on that later)
But why create eNaira?
When the announcement of the October 1st launch was made, it took a lot of Nigerians by surprise.
Mainly because the government restricted banks and financial institutions from facilitating cryptocurrency trading a few months back.
However, eNaira like other Central Bank Digital Currencies (CBDCs) is not a cryptocurrency.
They are digital currencies issued by the government of different countries.
And there are different reasons why governments create them.
It could be a means to take control of the economy like China or integrate the citizens like Jamaica.
For Nigeria, these are my thoughts:
1. Remittances
Nigeria is topping the list of countries that trade crypto the most. 
This means that many cross-border transactions are happening via crypto.
In other words, the country is not making as much as it ought from remittances.
It's only a matter of time before crypto will take over that function completely.
The Nigerian government can't risk that especially since it has no control over crypto. 
With eNaira, it will provide an alternative to crypto and regain some of its funds from remittances.
2. Financial regulations
eNaira as a CBDC will be used for day-to-day expenses.
Since the government is in control, it becomes easier to drive economic policies and financial regulations.
Note also that these regulations may disfavor the adoption of cryptocurrencies since the government would not want any competition. 
3. Financial Inclusion
Though it may not look like it, I believe the Nigerian government also has the citizens in mind in creating eNaira.
Because with this currency, Nigerians can send and receive funds even without a bank account. (more on that later)
Also, the currency will most likely be built on the blockchain which will facilitate swift payments.
---
2. Who Will Create The eNaira?
Just so you know, CBN is not the one creating eNaira but Bitt Inc.
Bitt Inc. is a tech company that creates payment systems for merchants, financial institutions, and central banks.
The Nigerian government selected the company out of many bidders because it has created CBCDs before now.
Also, Bitt Inc. will have to register as a Nigerian company based on this role.
And as you'd expect, CBN will have a stake in the creation of eNaira.
That way, it will be able to vote and determine what happens with the currency.
Let's see how eNaira will work in the next section.
Tag along!
---
3. How will eNaira work?
According to the guideline CBN sent to banks, Nigerians will need digital wallets to own eNaira.
The wallets have different tiers:
a. Speed wallet – this is the first wallet and it will be managed by CBN because of the sudden launching of the coin.
b. Tier 1 – individuals without a bank account can have this wallet. You only need to provide your NIN (National Identity Number) and phone number. 
The minimum amount that can be stored here is N50,000.
c. Tier 2 – for this wallet, you'll need a verified bank account. And it can store from N200,000 to N500,000.
d. Tier 3 – also requires a bank account. And the minimum you can store here is N1,000,000 while the maximum is N5,000,000.
e. Merchant level – this is for stores that wish to buy and sell eNaira. Interested users must have verified bank accounts and complete KYC.
The minimum you can store here is N1,000,000 and there is no maximum limit.
Apart from the wallet tiers, the currency will also be launched at different stages:
1. Monetary Authority Suite – this is the first stage of the launch and it will be handled by the Central Bank
CBN will issue, distribute, redeem and destroy the currency at this stage.
Also, it will store data on a cloud server, monitor and analyze currency transactions.
2. Financial Institution Suite – in the second stage of the launch, licensed financial institutions will be able to issue eNaira, manage distribution across branches, conduct KYC, and identify AML compliance capability.
3. eGovernment Suite – in the third stage, the government will be able to process digital payments sent to and received from citizens and businesses.
4. Merchants – at this stage, eNaira will be available for POS services, remote payment solutions, online applications, etc.
5. Retail Consumer Suite – at the last stage, eNaira will be accessible to all and sundry.
Furthermore, measures will be taken to achieve privacy and security.
One way the government intends to achieve that is by keeping all data and personally identifiable information (PII) off the radar.
Quite interesting, huh?
In the next section, I talked about the cost of eNaira.
Keep reading!
---
4. What Will It Cost To Get eNaira?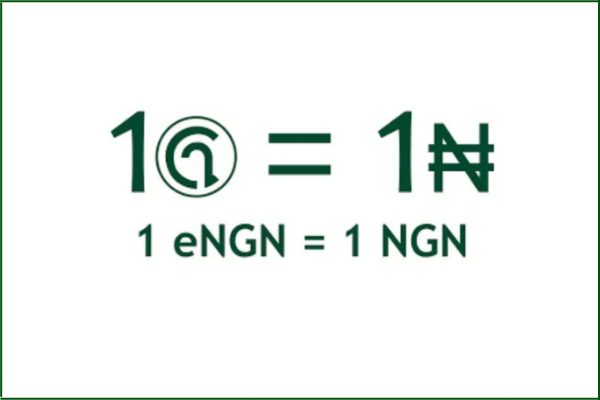 Nigerians will not pay for eNaira so to say.
Also, transactions involving eNaira will not attract any extra charges.
CBN puts the responsibility on the banks to market eNaira as a cash alternative to existing and potential customers.
This is to help achieve the Nigerian apex bank's goal for financial inclusion.
Therefore, I can deduce that users will receive eNaira in an equivalent amount to whatever is in their bank accounts.
Also, users will get the eNaira from their banks.
The plan is for Nigerian banks to invite all their customers to register for the e-Naira. 
Banks will send invitation codes to verified customers.
Consequently, they will provide their customers with eNaira wallets. 🤷‍♀️
So, is this currency the way forward for Nigeria?
Keep reading to know what I think?
---
5. Is eNaira A Good Development?
Well, the Nigeria CBCD like most projects has its pros and cons.
On the bright side, it will enable fast payments and cheap transfers.
Also, it will reduce the need to print fiat naira at least by ⅔.
And since it is created with AML compliance in mind, we can be sure of safe transactions.
On the other hand, CBN will have an overbearing control over the use of the currency, much to the displeasure of the users and even banks.
It may also displace big players in the payment infrastructure.
Additionally, a private firm (Bitt Inc.) will access personal data which is not great.
But CBN has a stake in the project so we can relax.
Moreover, the launch of eNaira may result in regulations that will toughen the usage of crypto.
Hmm…fingers crossed.

---
6. Summary
eNaira is a digital currency proposed by the Nigerian government to facilitate fast and cheap payments.
Though it is not a cryptocurrency, it appears that the government wants to present it as an alternative to cryptocurrency.
Hopefully, it will help the government regain the control and revenue it has lost to crypto via remittances.
But I can't say for sure that e-naira is the way to go at least not until after its launch on October 1st, 2021. I'll keep you posted.
How about you? what do you think of this currency?
Let me hear your thoughts in the comments section.
Also, share this post with your friends, thank you.
---
Read these yet?