How To Know Legit Crypto Airdrops (9 Pro Tips!)
In this post, I shared 9 tips on how to know legit crypto airdrops.
Not long ago, a friend notified me of an airdrop, and I sent out about three Ethereum wallet addresses to receive the new token.
Thank goodness those wallets were not funded because the airdrop turned out to be fake.
Sadly, other fake crypto airdrops exist and many folks have lost their funds to them.
Keep reading to know how to spot a legit airdrop and save your money!
---
Post Summary
Click on any item above to read its details immediately.
---
1. What Are Crypto Airdrops?
Crypto airdrops are free tokens given en masse to the communities of crypto projects to encourage adoption.
In other words, newly minted tokens are given to hundreds or thousands of different wallet addresses.
The goal is to get the recipients to actively engage with the corresponding project.
Usually, a crypto airdrop is a part of a broader marketing initiative.
Additionally, it guarantees a fair distribution of tokens from the onset. Cool! 
Also, a crypto airdrop is issued to users after they have completed a given task.
The task may be to:
Follow an account on social media/ share their posts and hashtags;
Create an account and sign up to receive updates;
Develop digital content on the project and share it on social media;
Send or receive a transaction (using a particular crypto platform or wallet).
However, some crypto airdrops do not require the recipients to do anything.
That way, recipients are incentivized to help the project reach a broader audience once the token is listed on exchanges. 
And you know, the more interest a token garners, the more likely its price will rise.
Most times, airdrops are promoted on a project's website, cryptocurrency forums, and social media. 
People love crypto airdrops because they give you many free tokens that you can sell and make a profit.
Examples of crypto airdrops that have been completed in the past include:
Furthermore, crypto airdrops do not require users to make any investment.
They simply help projects stand out among competitors.
Yet, people lose funds via airdrops. Join me in the next section to see how not to be a victim.
---
2. How To Know Legit Airdrops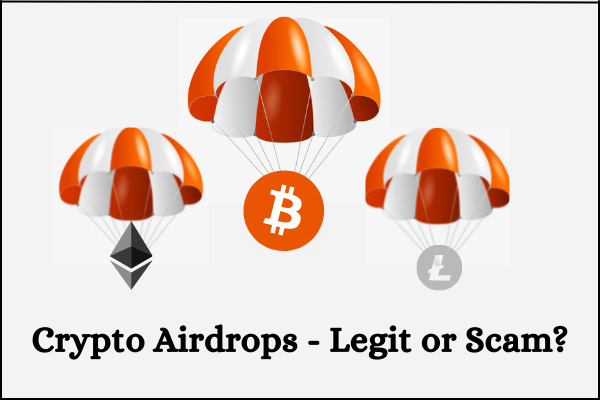 Before you invest in an airdrop, look out for the following:
i. The coin's popularity
Check to see if the coin is already established or a new one.
If it is a well-established coin like BTC, ETH, BNB, you should think it through because such coins do not need publicity.
In the past, we've seen fake EOS and TRX airdrops.
These coins are popular and rank well on Coinmarketcap. 
So, the chances of hosting an airdrop are slim.
This is not to say that there cannot be an airdrop for a popular coin but most legit airdrops are for new coins seeking adoption.
Moreover, new coins are yet to garner value and as such, it will be easier to give them away in bulk.
ii. The airdrop channel
Secondly, legit crypto airdrops are announced on the official channels of the host project.
That is, the project's website and its social media accounts.
If you cannot find the airdrop on any official site of the project, then it is not legit.
Don't subscribe to an airdrop simply because your friend sent you a link on Whatsapp or told you via word of mouth.
Verify it first!
iii. The announcing account
Another way to know a legit airdrop is that it is posted on an account with a usage history.
Even if it is a new crypto project, you should find previous posts on its purpose and goals.
Where you find only announcements of the airdrop and no tangible information on the project, you want to hold on a little.
Don't be in a hurry to subscribe to airdrops announced by new accounts on Bitcointalk, Facebook, and Twitter.
iv. Google Forms
In addition to being promoted on official websites, many legit crypto airdrops are held through Google Forms.
That said, only fill forms for airdrops that are promoted on the official site.
Also, grammatical and spelling errors on these forms are red flags.
A legit project will edit such mistakes in any message they are sending to the public. Or, don't you agree?
For some projects that are based in parts of the world where they don't speak English, we can accept a few mistakes in "translation"
But if the mistakes are unbearable, it's a no, no.
v. No request for coins
Furthermore, a legit airdrop will not require you to donate coins.
For example, a legit airdrop will not require you to provide BTC, ETH, or any other coin to claim the new coin.
The most they'd do is to request that you lock up a particular coin in your wallet for a period of time.
Just like the Everdome airdrop that required users to hold 10,000 HEROs for a month.
It is mainly ICOs that request funds for investors to receive new tokens.
You want to remember that!
vi. Withdrawals
If a crypto airdrop is legit then it will be easy to withdraw the free tokens.
So, when you're checking out an airdrop, confirm that you can withdraw your tokens before you proceed.
Will the tokens be sent to a private wallet that you can withdraw from or to a centralized wallet?
In the case of a centralized wallet, will it be possible to sell the tokens for other currencies?
If your responses to these questions are not positive, it may not be a good idea to participate in the airdrop.
vii. No private keys
A legit crypto airdrop will not request your private keys.
Only your wallet address is enough for you to receive the token.
Although some legit crypto projects require you to complete KYC to receive an airdrop, they will never ask for your private key.
Therefore, be wary of any form requesting a private key or your login details to an exchange account.
Additionally, be sure that a project has an excellent track record before you complete KYC with them
Otherwise, a scammer may just access your personal info and even a copy of your ID. Oops!
viii. No Phishing emails
Please note that legit crypto airdrops are not advertised via emails.
When you receive emails advertising a crypto airdrop and requesting that you click on a link, run!
People fall for this one because the email appears to be sent from a known project, with their name and logo.
Also, the airdrop is usually mouthwatering.
But don't fall for it. Always go to the original site of the project and make your findings.
You can even reach out to their customer support to be sure.
Please don't click on any link sent to your email to receive an airdrop, especially if have not signed up for the project with that email before.
ix. Instincts
Trust your guts. If it feels too good to be true, it probably is.
It could be that the amount of coins to be released is ridiculous and the speculated price when it hits the market is not feasible.
Again, some websites advertising airdrops, have a timer indicating when it will end but somehow, the timer never stops.
That looks shady, right?
So,  If it doesn't feel right, don't participate on the website or fill out the form.
Yes, you may miss out on free tokens but may also avoid being scammed.
Important Note!
It is possible that a scam airdrop may meet some of the criteria above. Therefore, you should do due diligence to be sure that a project is worth your time before you participate in its airdrop. Most importantly, never pay money to receive an airdrop. They are called free tokens for a reason.
To be on the safe side, you can follow these channels to stay updated on legit airdrops:
https://coinmarketcap.com/airdrop/
bitcointalk.org
https://airdrops.io/
https://airdropking.io/en/
https://airdropalert.com/
https://www.youtube.com/c/judeumeano
https://www.youtube.com/channel/UCMes2cnOMj9UuA7q4xI1SXw
https://t.me/ctmastery
---
Learn Crypto Trading!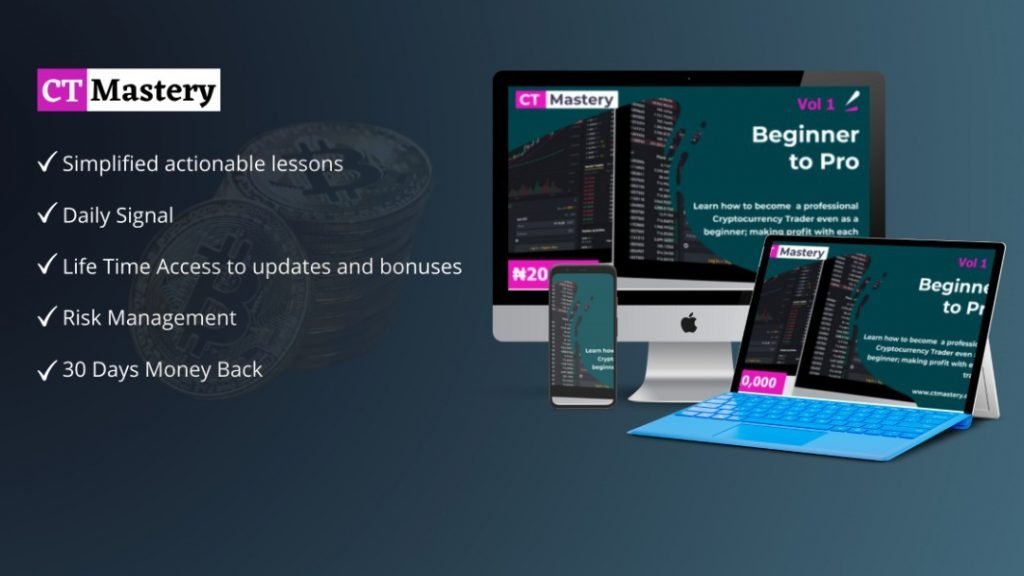 To help you trade crypto profitably and curb your risks, we curated the perfect course for you.
Go to www.ctmastery.com to enroll in our Cryptocurrency Trading course and thank me later.
You can also join our Telegram community at https://t.me/ctmastery.
---
3. Conclusion
Crypto airdrops are profitable because they give you free tokens that you can sell and make money.
However, there are scam airdrops aimed at stealing your funds and leaving you with worthless coins.
Endeavor to look out for the criteria listed above to stay safe.
That said, we have come to the end of our discussion on how to know legit crypto airdrops. I hope you've learned a thing or two.
Now tell me, have you participated in a crypto airdrop before? Was it legit or a scam?
And do you still have questions on crypto airdrops?
Please type your responses/questions in the comments section below.
Also, share this post with your friends, thank you!
---
Don't miss…