Huobi Token Review – Is This BNB Rival Worth Your Money?
This post is a detailed review of Houbi Token (HT), the native coin of the Huobi Global exchange.
It is commonly viewed as a BNB rival because the parent exchanges of both tokens are household names in the crypto-verse.
This idea is not far-fetched as both tokens share similar features and HT was launched a few months after BNB.
Nevertheless, there is more to this token than the BNB palava LOL.
Keep reading to the end so you don't miss any of the juices.
---
Post Summary
Click on any item above to read its details immediately.
---
1. What Is Huobi Token?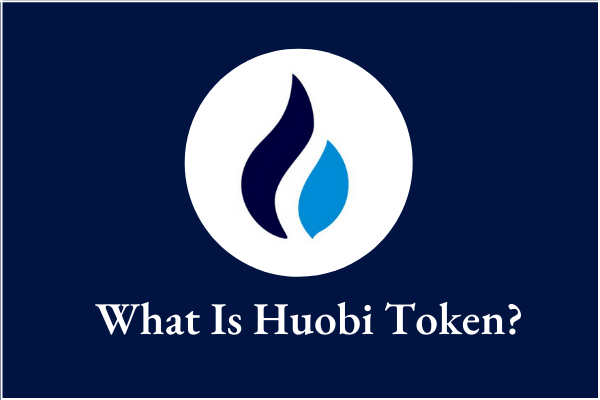 As mentioned, Huobi Token (HT) is the native cryptocurrency of the Huobi Global exchange.
It is an ERC-20 token and as such is hosted by the Ethereum blockchain.
HT was created in 2018 to facilitate several operations on the exchange.
Needless to say, the value of this token depends largely on the popularity of Huobi's platform.
Let's look at its distribution 👇
Huobi Token Distribution
The total supply of HT is 500 million.
300 million coins were distributed to the users of the exchange.
200 million coins were kept in reserve. Out of which, 100 million will be used for platform rewards and operations while 100 million is for team incentives.
Furthermore, Huobi employs a burning mechanism to reduce the number of tokens in circulation every month.
It allocates 20% of its revenues each month to buy back and destroy HT.
15% is used to burn HT from circulating supply and the remaining 5% is spent to burn HT team incentive rewards. 
The goal is to boost the price of the token and reduce the inflation rate.
Impressively, the coin saw an increase from $1.30 to $35 during the all-time-high period in 2021.
Great!
Next, we'll look at the uses of HT.
Tag along!
Visit Huobi
---
2. Uses Of Huobi Token
Huobi token has several use cases. They include:
a. Trading
Holders can use HT to pay exchange fees and also exchange the token for other cryptocurrencies.
Not just that, they can purchase monthly VIP-status plans to receive discounts on transaction fees.
We're looking at up to 65% in trading fee discounts. Wow! 
b. Staking
Huobi Token holders can stake their HT to Huobi's PrimePool to participate in new listing projects. 
They are rewarded with free airdrops of new tokens based on the number of HT and the length of time staked. 
And where a holder misses an airdrop, he can buy new tokens launched on the Huobi PrimePool at a discount before they are listed on the exchange.
*Huobi PrimePool is where users lock up their cryptocurrencies to earn daily airdrops at a specified rate.
c. Gas Fees
Huobi token is used to pay for gas fees on the Huobi ECO (HECO) Chain. 
*HECO Chain is a decentralized, EVM-compatible public blockchain with smart contracts compatibility and high-performance transaction support. 
Moreover, holders get to participate in the different Dapps on the chain.
These apps have decentralized mining and staking functions, debit and credit mining capabilities, lending projects, etc.
d. Governance
Furthermore, HT holders get to vote on exchange decisions. 
e. Rewards
The token is also a ticket to Huobi special events like Huobi's Bitcoin Pizza Day.
It's an annual pizza day where HT holders get exclusive rewards. 
f. Payment
Also, various companies accept the Huobi token as payment for their services. 
Now that you know its uses, let me show you where you can buy and store HT.
Keep reading!
---
3. Where To Buy And Store The Huobi Token
Here, we're looking at the exchanges and wallets that support the Huobi Token.
Exchanges
Without any doubt, the Huobi Global exchange is a good place to buy HT.
The available HT pairs are:
USDT
LUNA
FTT
BTC
ETH
NFT
HUSD
LTC
XRP
EOS
DF
MX
BCH
ARPA
DASH
MDX
OST
HPT
ETC
CKB
KSM
LAMB
TT
ETC
RSR
ONE
NODE
CHR
SAND
RVN
EPIK
GT
AKRO
NEW
HPT
Additionally, you can buy HT from a long list of other exchanges. They include: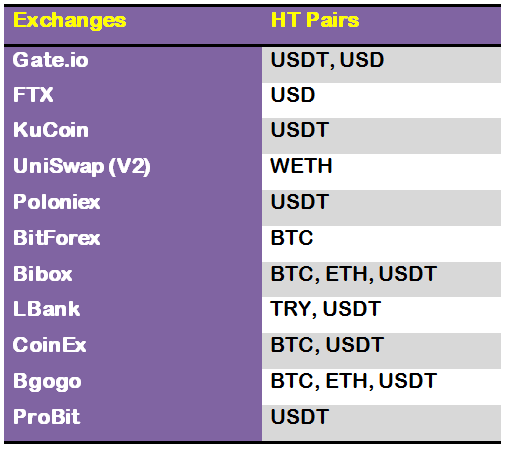 Now, let's see where you can sore this token 👇
Huobi Token Wallets
The following wallets support the Huobi Token
Ledger
Trust
MetaMask
Atomic
Coinomi
Exodus
MEW
Trezor
Moving on, let's see how HT fares when compared to other exchanges tokens.
Tag along!
---
4. Comparing Huobi Token With Other Exchange Tokens
Just like Huobi, many centralized exchanges (compelled by the success of BNB, the Binance coin) have created their coins to ease operations and boost users' loyalty.
In the table below, I compared HT with other exchange tokens based on relevant parameters.
Check it out:
From the details above, we can see that HT is doing pretty well. 😉
Next, let's see if HT is a good investment.
Read on!
---
5. Is Huobi Token Worth Your Money?
Considering the use cases of the coin, HT is a good coin to put your money on.
You can trade the token for other cryptocurrencies, receive crypto rewards, access special events, and vote on exchange decisions. Nice!
Also, the team behind the project is good to go. They have both the experience and well of knowledge to take Huobi to greater heights.
We can expect the creation of more avenues that will make holding the token worthwhile in the future.
Moreover, the value of the Huobi token will keep improving as the parent exchange increases in popularity.
Already, it is ranking 2nd in the globe. And as more people use the platform, they will need to own HT thus, improving the coin's value.
Plus, you can use HT to make payments in online shops that accept it.
Nevertheless, do due diligence before investing in the token.
---
6. Conclusion
We have now come to the end of our discussion on the Huobi token. I hope you enjoyed the read.
The token's broad range of uses makes it a profitable investment.
So, tell me, will you buy HT? 
Perhaps you already did, have you been making huge profits?
Let me have your responses in the comments section.
Also, share this post with your friends, thank you!
Visit Huobi