LearnWorlds Pros and Cons: Uncover the Success for Online Course Work
Before choosing the best online course platform for your business, it's always best to do your research. Find out if it's right for you.
In this case, we are talking about overseeing if LearnWorld's pros and cons will suit the best course platform for your business, both as a solo creator and as a team/institution.
If this sounds like what you would love to find out, and you're considering going with LearnWorlds LMS (Learning management system) platform which we've compared with Podia and Thinkific but want to know the ins and outs first, you're in the right place.
Let us take you through the answers to all of your 'hows' and 'what ifs', by explaining every pro and con there is to know about choosing LearnWorlds as the best online course platform for creating, selling, and promoting your online courses/sites.
What is LearnWorlds?
First things first, let's talk about what LearnWorlds actually is and what it has to offer.
Learnworlds is an online content hosting platform for creators who want to both monetize and manage their content exclusively.
As a creator, Learnworlds allows you to create subscription-based membership sites for your audiences, although you can give out some sections for free if you want to. With this ability to create exclusive content for a particular set of people, you earn money from your students/audiences actively and passively.
Lastly, you can make recurring income by upselling to students and also manage your online school using a customized mobile app that is available to all creators.
Is LearnWorlds just for solo online creators?
In essence, no. The advanced course building facilities on LearnWorlds have made it fit for both solo creators and agencies. 
Some of the high points with it include multi versatile integration systems, advanced analytics and reporting, multiple payment gateways, and a highly customizable creator page and site builder to design your online school to high taste.
Does LearnWorlds offer a free plan?
The answer is NO; although you can get started for free. Here is what I mean.
LearnWorlds does not offer a free plan for users, but as a tutor, you get 30 days FREE Trial to build your online course or business.
Should you consider starting with the 30 days FREE trial, as used before now, I recommend the Pro Trainer Package which gives you room to use the advanced facilities such as SCORMs, advanced integration, live classes & webinars to build your online course to a standard which increases conversions – more $$ money for you as a creator.
To get started, all you need to do is go to LearnWorlds.com and sign up.
Next, enter your name and preferred school name – as seen below.
 Learnworlds Pros and Cons Success with Online Course Work
The following are the merits and demerits associated with LearnWorlds online course website.
What are the Cons of LearnWorlds?
Let's see.
There are Transaction fees
LearnWorlds charges transaction fees BUT only in its first pricing plan – "Starter".
Now, ordinarily, with LearnWorlds, you get 0% sales fees regardless of the number of sales you make. But to enjoy this benefit – you have to gladly be a Premium Plan Creator which includes – the "Pro Trainer, Learning Centre, or the High Volume & Corporate plans".
Course Migration is not free
Unlike on Podia where you get free course migration, with LearnWorlds, you either do it on your own using the LearnWorlds Help Center guide or pay for the service.
Should you opt for the latter, you will have to contact support at support@learnworlds.com for additional information.
Unlimited pages are not allowed on the Basic package
Again, unlike Podia where you can create unlimited on all pricing plans, with LearnWorlds, you can only create 3 which are "Home page, Course Library or Catalogue and after login page".
Therefore, to enjoy unlimited pages, you must be on at least the "Pro Trainer pricing plan".
No Free course in the "Starter Plan"
Unfortunately, you can't offer free courses in the "Starter pricing PLAN" for your audiences, which means, if you want it all, you need the upgraded plan to enjoy all the advanced benefits for your online business.
Later on, I will discuss why you need to choose the best plan. Let's continue with the Pros for now.
What are the Pros of LearnWorlds?
Here are a few of them.
Offers a Versatile Page Builder
The site editor or what we call "site builder" by LearnWorlds is one of the best page builders almost equivalent to what Elementor offers which easily allows you to design whatever you want with it.
All the elements on the LearnWorlds Site Builder are editable to whatsoever you want with varieties of typography and colors to use.
With it, you get varieties of Page Sections, Actions and Layouts to use. For instance, if you want to use the Background section, you have the option to use media such as images, videos, or embed content overlays.
Optionally, you can use transparency or any color palette to give the background a sleek design plus match your brand color scheme.
Using the dividers. Should you choose to use dividers to separate your design sections, you can drag it to the top, middle or bottom to suit your needs. With the same energy, you can select the divider and adjust the width and height for your sections.
And publishing content. Upon selecting your preferred elements and content, check out the top navigation to preview your work and when 100% okay with everything, you go ahead and click on "Save".
Multiple Payment Gateways
Of all the top online course platforms, LearnWorlds, offers the best in terms of multiple payment methods to integrate with your online school.
Some of the payment options to choose for integration include Stripe, PayPal, Shopify, PagSeguro (for Brazilians), iDEAL, Bancontact, Shopify, and Quaderno.
Amazingly, they offer a special payment platform called Sandbox to help you test your course environment before launching fully.
Advanced Reporting Systems 
Like with payment options, LearnWorlds offers multiple and advanced reporting and analytics to measure the performance and progress of both your students and online school in general.
The popular reporting systems include Google Analytics, Google Search Verification, Mixpanel, Facebook-pixel, Google Tag Manager, and more via reporting options.
Someone once asked about the best interactive online learning platform to use. If you are one of them, then it may gladden you to know that Learnworlds offers a system to communicate fluently with your audiences. Here is how.
With LearnWorlds, both you and your audience can create posts and comments including URLs, images, and even polls to help you ascertain the interests and personalities of your online community.
Going on, within the community, you may choose to create groups according to users' interests, courses' enrollments, or even hobbies, and depending on your school's social settings you may enable course discussion groups for each course or each course's learning unit.
Let's not forget to add that you can communicate with your students with an inbox message as well.
Offers Mobile app and platform
How about thrilling your audience with mobile applications to easily access your online school? Yes, you get this with Learnworlds as you have the option to create a custom mobile application.
To start with, you will have to download the LearnWorlds Demo app and see how your Mobile App will appear. With that, you can now test your app, and check out how it looks on your device
The good news is that the app is both available for Android on Google Play and iOS users on the Apple store.
Advanced Facilities for Solo and Agencies
Though you can enjoy all the premium course platform facilities with LearnWworls during your 30 days trial, to continue doing so, you will have to sign up with at least its premium pricing plan which is the "Pro Trainer", else, as a "Starter" plan user, you will lack these exclusive elements.
Zero Transaction fees. Unfortunately, as a "Starter plan user", you can't enjoy ZERO transaction fees LearnWorlds offers unless you are on the "Pro Trainer" and above pricing package.
Also, as a "Starter Plan User", you can't integrate subscriptions & memberships to earn from your audience, and you have just a few payment options and 24/5 instead of 24/7 customer agent support.
Going on with the advanced integrations, for Email Providers, integrations include with Mailchimp, Active Campaign, Convertkit, and Aweber.,
Advanced infrastructures such as third-party snippets or growth tools integration include Intercom, Fomo, Sumome, Auth0, and Hubspot.
Video Conferencing and live class integrations work with Webex, Wistia, Vimeo, YouTube Live, and Zoom.
All in all, Learnworlds fits for selling an online course, webinars, course building, coaching, selling memberships, with detailed reports and more advanced options for instructors and agencies/institutions.
Who is LearnWorlds best for and which plan is Recommended?
Depending on different use cases as a course creator, it's recommended you take advantage of the best online course platform facilities offered to have massive success with your online business. That is if you want to keep up the results long-term.
Offering great facilities to scale your online school, if you want to get zero transaction fee charges, create free courses to build your audiences, get maximum 24/hr tech support, Affiliate Management, educational materials, SCORMs, iOS & Android App builder, etc. and enjoy LearnWorlds online platform the way it was designed for course entrepreneurs, then the Pro Trainer plan is highly recommended for a solo creator to get the best value for money.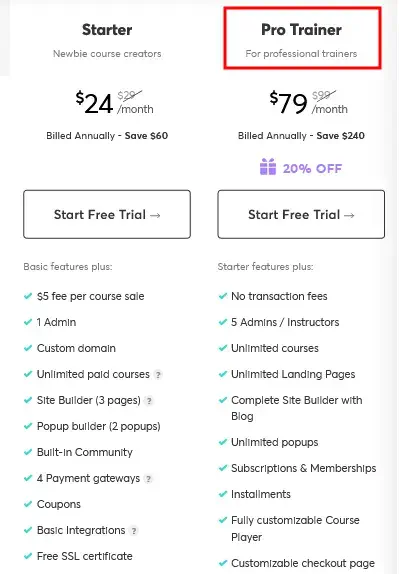 ➣➣ Go with LearnWorlds Pro Trainer Plan
And if you are an agency or institution, then the "Learning Center plan" without doubt is the perfect fit for you – the popular plan on LearnWorlds.
With it, Bulk User Actions is enabled which helps you to import, enroll, unenroll, tag, suspend, or delete your users by file upload, Interactive Video is enabled, Auto-Transcripts & Subtitles for your Videos, and Zoom & Webex Multiple Accounts, plus Dedicated Customer Success Manager are all enabled and of course, 24/7 Premium Support. 
➣➣ Go with LearnWorlds Learning Center Plan
And in summary, the last pricing plan is available for High volume & Corporate organizations which the pricing is based on a quotation from the company as per your custom needs.
There you have it. As a business owner, if you are still looking for an intuitive course platform for creating, selling, and promoting your online courses and start monetizing your skills, experiences, and audience using various facilities to launch and scale, then you have Learnworlds which fits the perfect match.
LearnWorlds Alternative Pros and Cons
If you like the idea of free course migration, zero transaction fees, and unlimited pages on any pricing plan then you might want to check out Podia – best for solo creators.
However, if you go with LearnWorlds from the "Pro Trainer plan", you also get ZERO transaction fees, unlimited pages, plus more advanced analytics, payment gateways, and other advanced facilities that suit both solo creators and agencies than on Podia.
That's it on the LearnWorlds pros and cons to build a successful online course work.