Bored Ape Yacht Club (BAYC) Review
In this post, I reviewed Bored Ape Yacht Club, one of the most popular NFT collections.
At launch, an ape was sold for 0.08 ETH but now (5/04/2022), the cheapest ape goes for 76.7953 ETH.
On January 30, 2022, a Bored Ape was sold for 1080.69 ETH (that's $2.85 million at the time). Oh My God!
And just like CryptoPunks, Bored Ape owners do not fail to display them on their social media accounts. 
So, what's the big deal with these apes, and why are they so expensive?
Keep reading and you'll find out.
---
Post Summary
Click on any item above to read its details immediately.
---
1. What Is Bored Ape Yacht Club?
Bored Ape Yacht Club (BAYC) is an NFT collection of 10,000 ape headshots that launched in April 2021.
They are hosted on the Ethereum blockchain and each of them has distinct characteristics that make it rare.
Clothing, eye shape, and head accessories are some characteristics that distinguish an ape.
Look at this screenshot of different apes to see what I mean 👇
NB: BAYC is also the name given to the community of Bored Ape holders.
Although BAYC is owned by Yuga Labs, it was created by four friends with the pseudonyms Goner, Gargamel, No Sass, and Emperor Tomato.
Gargamel and Gordon were later identified in February 2022 as Greg Solano and Wylie Aronow respectively.
Their goal was to represent early crypto investors who are now very wealthy yet bored.
Furthermore, they used apes because of the cryptocurrency phrase aping in, which means to buy into a new NFT without care, risking a significant amount of money.
And that's how it is today, folks are spending millions of dollars on Bored Apes.
Let's talk more about that in the next section.
Tag along!
---
2. Why Bored Ape Is So Expensive
a. Social Status
BAYC attracts a high social status. 
For example, on Twitter, if you use a photo of a Bored Ape as your profile picture, you're perceived as wealthy and crypto savvy.
Plus, many celebrities like Justin Bieber and Jimmy Fallon who own Bored Apes do not fail to flaunt them.
This association with wealth and fame is one reason why Bored Apes are so expensive.
Here's another reason why Bored Apes are so expensive.
The Bored Ape Yacht Club is an exclusive club.
Membership in the club is granted when you purchase a Bored Ape.
As a member, you get to participate in the activities like yacht parties.
Also, you'll have access to the Bathroom, which is a collaborative graffiti board for members to draw pixels.
Furthermore, top celebrities like Tom Brady and Madonna belong to this community as well, making it cooler.
Plus, members also receive free perks like additional NFTs or tokens.
A good example is the APE coin that was fairly distributed to all Bored Ape holders.
c. Profitability
This one is quite obvious. Making a profit is a major reason why people invest in NFTs.
You know how it is, you wouldn't sell an item at a price that is less than what you bought it.
So, the prices continue going up as ape holders try to make their profits.
Additionally, most holders put up their art for auction and then sell it to the highest bidder.
d. Limited Supply
As mentioned, only 10,000 Bored Apes are in existence, and that's all there can ever be.
Thus creating a feeling of scarcity and a subsequent increase in value.
Moreover, each ape is unique with its distinct characteristics.
And their authenticity can be verified on the blockchain.
Think of it as the first Cryptocurrency, Bitcoin with a maximum supply of 21 million coins.
See how well the coin is doing. 🤷‍♀️
e. Rarity
Each Bored Ape is a combination of different features like fur color, background color, outfits, and accessories.
Although they all share the same uninterested look, their unique features add to their value.
The more rare an ape's feature is, the costlier it will be.
For example, Bored Ape #7495 is one of the rarest NFTs in the collection because it has a dagger in its mouth.
Only 48 other apes share the same feature. Cool!
f. Hype
We can also trace the high cost of Bored Apes to the hype it received on social media.
People love art and when the art is digital, it brings some excitement with it. Hence, the hype!
Adding that NFTs are the current trend and Bored Apes are pretty irresistible, it only makes sense that the prices are in six figures or more. 😜
Moving on, I'll show you how to buy a bored ape.
Keep reading!
---
3. How To Buy Bored Ape
It's easy to buy a Bored Ape but you will need ETH, lots of it (or SOL)
Also, you'll need a convenient wallet like MetaMask.
When you are ready, take these steps:
i. Go to the BAYC page  on Opensea.io
ii. Skimm through to find an Ape that picks your fancy.
You can hasten your search with the available filter options.
iii. Next, you click on the ape that you like
iv. You'll be redirected to a page where the features of the ape are clearer.
Click on "Buy now" to buy immediately or "Make an offer" just to indicate interest.
v. Next, you connect your preferred wallet
vi. Then approve your purchase. Your ape will be sent to your wallet. Yay!
Now, because BAYC and CryptoPunks have lots of similarities, I compared them in the following section.
Check it out!
---
4. BAYC Vs. CryptoPunks
I compared these NFT collections in the table below based on relevant parameters: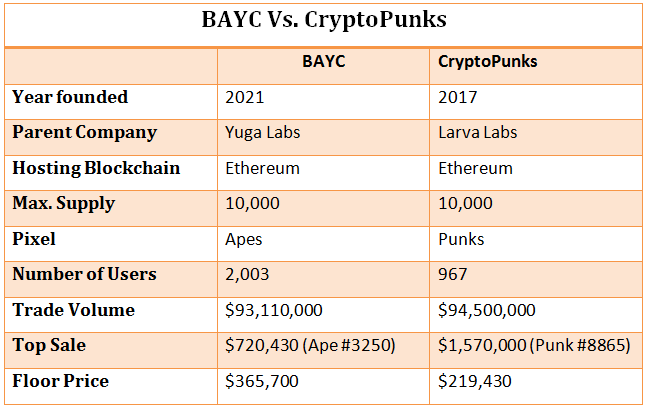 From the table, you can see that these NFT collections have a lot in common.
Also, they have attracted many rich folks as we can tell from the trade volumes and number of users.
But is BAYC worth your money? Find out what I think in the next section.
---
5. Is Bored Ape Yacht Club A Good Investment?
Yes, it is, if you can afford it though (LOL).
Like other digital arts, the value of Bored Ape NFTs will increase over time.
That's because the longer they're here, the greater their perceived value.
Additionally, BAYC has a limited supply, which increases its scarcity and eventually its value.
Furthermore, the success of Bored Ape NFTs inspired Yuga Labs to create a new series in August 2021, called Mutant Ape Yacht Club.
My guess is that more projects are in the pipeline.
Moreover, the large press attention, it has garnered also speaks to the bright future of BAYC.
Also, many folks are interested in the project and are willing to spend millions of dollars on an ape.
What more can I say? Even the boom of the general NFT market will rub off on these apes.
Nevertheless, do due diligence before investing in a Bored Ape.
---
Special Offer…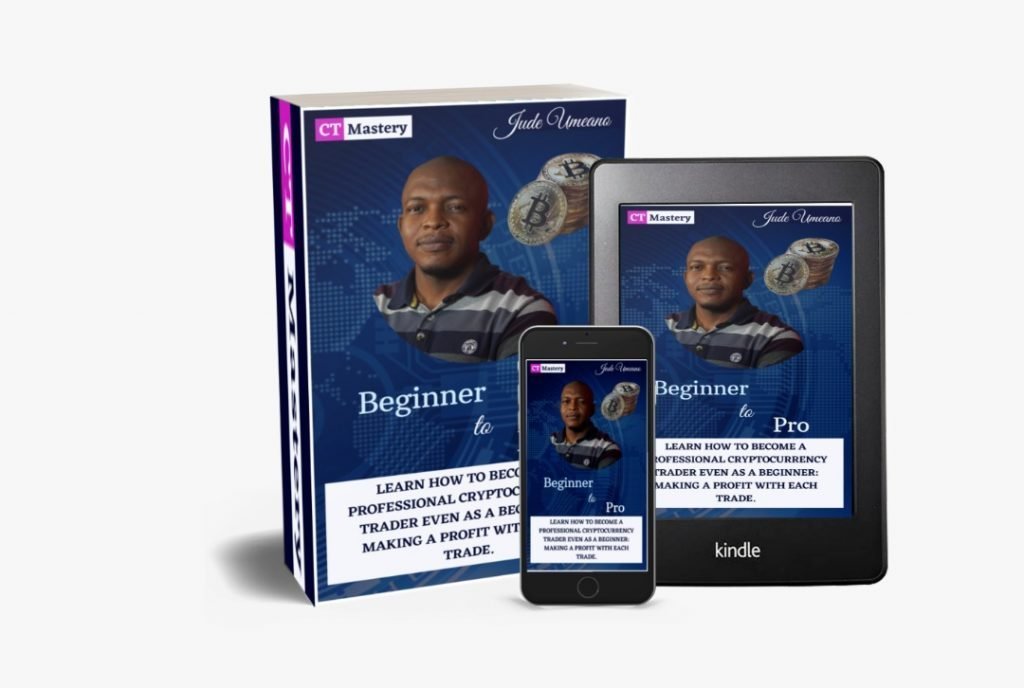 Enroll in our Crypto Trading Mastery Course to learn how to trade cryptocurrencies profitably. Go to www.ctmastery.com.
You can also join our Telegram community at https://t.me/ctmastery
---
6. Conclusion
We have now come to the end of our discussion on BAYC. I hope you enjoyed the read.
It's your turn; what's your take on this project? Do you think it will keep scaling?
And will you buy a Bored Ape? If you already did, what's your Ape's number?
Tell me in the comments, let's engage!
Also, share this post with your friends, thank you!
---
Learn about other wave-making NFTs…