How Much Do Bloggers Earn in Nigeria? My First $100 Blogging – Case Study 3
I guess you are here because you want to know how to make money with a blog for beginners. If not, I am so sure you want to know how much a blogger earns a month in Nigeria.
While I am not a guru in this business, I will only share what works/worked for me and how you can copy the same if that is what you want to do.
Going on, you will also see how to make money as well by promoting products – affiliate marketing.
To kick start, let me summarise it below before I beat myself up for the ugly mistakes I made when I started. 
How Much Do Bloggers Earn in Nigeria Summary
The mean salary of a Blogger in Nigeria is ₦100,000 ($200) – ₦2,000,000 ($4,000) on an average, and up ₦5,000,000 ($10,000) if the blog has up to 1 million page views pr month. Nonetheless, with a focused blog on at least 7 multi-income streams, with 50,000 views per month, a blogger in Nigeria can make ₦4,000,000 ($8,000) a month.

Going on, 3 months ago in 30 days, I made N800,000+ from my blogs. But this is scalable if you are ready to put in the work. Let's continue.  
I Never Kept A Record of my First $100 Blogging
You might call the process a dumb ass because I never kept track of my earnings. I was carried away by the passion, comments, and supports I was getting from my readers.
After starting my first niche blog in late 2016, began promoting the article in mid-June 2017 (if I am not mistaken), my first reward as a sign of the good days coming was seeing my articles rank on Google's first page.
Yeah, (I can't recall the others but I remember vividly that) I got a $10 commission in December 2017.
It was terrible that I earned 10 bucks yet I never knew it because of not keeping records.
To say that I was excited is an understatement. I was blown away by the fact that passion writing earned me my first $10 online.
My
Second $10
I got my second $10 from promoting the same product as the first.
The commission was, every $100 paying customer you brought in you got a commission of $10.
Yeah, the happiness was not as the first but the truth is, I was happy. That is how $20 was made
I will go on to another product I was promoting because I
never kept a good record with this first one.
My
Third $10 – it was more.
Yes, my third earnings came in Euros. 24.5€. The breakdown.
#a. 8.70€
#b. 7.90€
#c. 7.90€
Total
– €24.5. In
Dollars – $26.96

 3rd Earning – $26.96
My
Fourth Earnings
My fourth earnings came in from another platform I was
promoting. As of the last time of checking – early 2018, the earnings
accumulated to $28. This was after I
lost the blog.
Unfortunately, I can't log in as authentication from Google authenticator is required to have access.
4th
Earning – $28.
My
Fifth Earning
Upon getting the drills of paying $50 a month in hosting to stay online by my local hosting company, I was forced to put up AdSense on the blog.
The earnings ran over to $70.
Wait, I think that is up to $100. Let me do the calculation
5th
Earning – $73.37
$ (28 + 73.37 +
26.96 + 10 + 10)
Total – $148.33
So, that is how I made the first $100 with blogging online (for the ones I can recall – a passion project turned money-making venture.
To answer the big question – how much do Nigerian bloggers make a month?
Here is exactly/relatively how much bloggers earn in Nigeria. Bloggers with blogs and websites that receive up to 100k-1M+ visits a month make up to $10,899 on ads a month depending on their niches.
Personally, I made N800,000+ some months ago from blogging, you can read the full income report here.
As we go on, you will see how much some Nigerian bloggers make with niches such as Gaming and Finances.
Even more, I will go on to show you how to double that figure if you're ready to start an online business as a blogger.
How Much I Got Paid to Promote Products Online
To get started, let me lay down my income report for the month of August 2020. So far the month is not over (8/24/2020) but let's see it.
Kindly note that these income proofs are not a form of boasting nor trying to paint how SIMPLE Blogging/affiliate is. If it were so, then everyone will be banging hard – but not so, many have failed.
Besides Shamsudeen of Cybernaira talked about the danger of income reports for Beginners, so, I am not ready to paint a soft picture because I give room for online chat with those in need.
If you must open a chat with me, let it be that you've followed the steps I laid down before chatting me up, sounds good? Great.
So, bear it in mind that to get here, I have struggled for a long time which you can see here, so, these reports are a mixture of God's grace, hard work, and luck (preparation meeting opportunity from the Lord through hard work/diligence).
Even as I write this, I am blogging since 11:43 pm, and I am chaining it till 6 am the next morning. So, you can see a little bit of the work you might need to put in.
However, the good news is that I have done the dirty work for years and you can see how to grow your blog and make money fast if you want to follow my own little path.
For the very first time, I broke-even N300,000 in 3 weeks online. Here is a breakdown.
N80,000 made in 14 days – affiliate marketing.
$68.71 paid on 20th August 2020 – affiliate marketing.
N200,000 – still accumulating. I won't like to bore you with a lot of screenshots, just see the last – N200,000+ (Month August 2020) – affiliate marketing.
What have you noticed above? In case you're guessing, here is it.
Those earnings were from Affiliate marketing, meaning, it wasn't from a high traffic site with 30,000, 50,000, 100,000 visits a month to make that happen.  
The Traffic to these income earnings – Zero ads
Kindly note that I major in promoting affiliate products with SEO – ranking sites using content marketing. What it means is that I never ran an ad to get the commissions as you've seen above.
And just as we've seen, the income came from three source sites as I manage up to 4 blogs and sub-blogs with 2 making 80% of the income.
N80,000 made in 14 days – traffic of less than 1,200 a month.
$68.71 paid on 20th August 2020 – self-promotion.
N200,000 – traffic of less than 2,100 a month.
I know it will shock you guys that a blog with less than 5,000 visits can pull these up. That's just the beauty of Affiliate marketing – you don't need all the traffic in the world, but even more important, you need greater grace and experiences from failures to make them happen.  
Don't worry, we will talk more about how to get paid to promote products.
Listen Up Now: truth is, there are a series of True Life Success Stories | Case Studies | Building An Authority Business Online & Beating 9-5 Jobs Lessons Coming Up. Click the notification "Pop up above the page". And If you have skipped it, clear your cache and delete my blog from your cookies or saved websites and refresh/reload this page to get the notifications. Lastly, #1. Click here to Get All Stories #2. Subscribe to our YouTube channel and #3. Join our Telegram Room.
How Do Bloggers Get Paid in Nigeria?
Some of the top ways Bloggers get paid in Nigeria are via:
Affiliate marketing – that is recommending products for commissions.
Advertisements – like Google AdSense which is a program run by Google through which website publishers and bloggers in the Google Network of content sites serve text, images, video, or interactive media advertisements that are targeted to the site content and audience.
Sponsored posts – this is when blog posts are sponsored on websites.
How Do Bloggers Receive their Earnings-Money Online?
Some of the top ways to receive payments in Nigeria are via:
Bank Transfer
Local Currency
PayPal
Crypto – Bitcoin, Mith, and etc.
E-wallets – Payoneer, Perfect Money and, etc.
If you will start your blog today or affiliate marketing and in need of a PayPal account to receive your payments, you will get it for free from me.

Why have I decided to give it out for free? To aid you to cut costs and make money online fast.
I even went on to give free guides some days ago on Nairaland.
The essence of all this is to help you make money fast because there are thousands of products to promote and make money.
The point is, when you see how much and the number of Indian, UK, and American bloggers make monthly then you will make every effort to help your Nigerian folk to survive.
I paid for a business PayPal account from a Nigerian but I had to give it out to help folks. The truth is, some of the free courses given out above are paid, but it's about success and survival. 
So, there is room for everyone to succeed, and if you are eying making money with AdSense, then the room is big enough to contain millions of site owners in Nigeria – just imagine India with a billion population.
Just before we see how to start blogging, let's see the types of blogs in Nigeria and how much it can earn you.
Top 7 Types of Blogs and Examples in Nigeria
Some of the top blog types in Nigeria are:
The Most Lucrative Types of Blogs in Nigeria
Even if a lot of people do not know cause I haven't seen such an authority blog in Nigeria, the most lucrative types of blogs are Finance, Travel, Real Estate, Jobs and Education, Health, and Finance.
However, the most lucrative amongst them is a Finance niche blog.
Want proof? No worries. Let's see what a Finance Blog makes using advertisements from AdSense alone.
Here is the breakdown of the most lucrative type of Blog niche in Nigeria.
Traffic – 50,000
Region – Africa
Earnings: the potential annual revenue is $10,000 – N3,200,000+.
The most attractive part is if you can bring in 50k visits in 1 week then your $10,000 earning is sure.
Wait. There is one other niche I think I haven't seen many blogs, and that is the gaming niche.
So the question is, can I start a niche blog on gaming and make money? The answer is yes. How do I know this? See below.
Are Gaming Blogs Profitable?
I will show you what you will get from AdSense adverts, but first, know that you can make money by promoting gaming products on Jumia or Amazon.
Here is how much you can make from AdSense with a Gaming niche blog in Nigeria.
The endpoint is, with a traffic of 50,000 a day, week, month, or year you can make relatively $2,310 – about N500,000+.
Disclosure: The above is an estimate as given by Google AdSense and should be only used as a reference. Also, kindly note that this article contains affiliate links to the relevant products &services I use and recommend which using them are at no additional cost to you, instead, you get premium discounts. Learn more.
Your progress so far. Before we see how to start a blog and make money, have you decided on the route you want to take? To help you out, let's see how to get paid to promote products online.
How to Get paid to promote products in Nigeria
Getting paid to promote products, what does that signify? If you say affiliate marketing, then you are right.
Just as we saw above, relatively N500,000 with 50,000 traffic with Google AdSense but with affiliate marketing, with less than 6,000 traffic hits I was graced to make N300,000 in less than 22 days.
What does it signify?
It means that with Affiliate marketing, you don't need 50,000 blog visits to make your first $500 online.
Even as you will see in Case study 4 – how a single product sold made me $100, the blog post readership hovered around 2,000.
So, if you want to get paid to promote products, the route is affiliate marketing. But there are basically 2 popular types of affiliating; #1. Using blogs as I did and #2. Using PPC ads, that is Facebook ads, Google ads, Instagram, and the likes. 
Option 1. Promote links and earn money using your affiliate blog.
If you would like to promote affiliate links and earn money using your affiliate blog, then see this guide on Amazon niche site and get started.
Or, if you want me to set it up for you, why not. I am here to help.
And just to disclose, I get paid by HostGator to do that for you. To get started, all you need to do is go here now and get hosting at $2.75 a month and a free domain name for your site while I do the rest.   
As soon as you get your hosting, contact me here and get your blog set up in less than 24hours in real-time you sent them to me.
Option 2. Advertise products and get paid using PPC
The fastest way to promote links and earn money is by using ads such as Facebook, Google, and Instagram, etc. So, if you want fast money then this is the path to take.
If this is the route you want to take, then I recommend you get trained on how to do it properly and fast. 
To get started, I recommend you enroll in the 72IG implementation training program by Toyin Omotoso, the CEO of Expertnaire.  
Just to disclose, it is through the same income training program – making money promoting affiliate products that the N80,000 in 14 days was possible. How do you mean, you ask?  
I've enrolled in it myself. To get started, click here to see the reviewed content or see how I unboxed the program – video. 
All in all, if you want to make money on the go, then you want to advertise products and get paid using the most popular platform – Facebook ads.
See this link and get trained on how to promote products profitably.
On the other hand, if you can promote affiliate links and get paid on your own, then I recommend you join Expertnaire.com and get good digital products, promote, and get paid for doing that.
First time of hearing Expertnaire? Well, Expertnaire is the Clickbank and other sites like it for Nigerians. Here is the Total Expertnaire blog post review.
Where to get digital products and promote? You can find them on sites like Clickbank, Jvzoo, Jumia, Amazon, and etc.
However, if you're a Nigerian, I recommend you promote affiliate products on Expertnaire.com.
Just as we've seen how much bloggers earn in Nigeria, let's now see how to start blogging in Nigeria, but before that, how can you make money with your blog in Nigeria?
Top 7 Solid Ways to Make Money with Your Blog in Nigeria
There are many ways to make money with your blog. However, the popular routes are:
1.  Make Money with Your Blog in Nigeria with Affiliate marketing
It's all about recommending affiliate products and making money. You can see how to start affiliate marketing. 
2.  Make Money with Your Blog in Nigeria through Advertisements
There are many networks like Google AdSense, the popular one remains AdSense.
 So, another way to make money with your blog is to apply for AdSense and make money. Here is how to get approved on Google AdSense.
If you don't give up, people will come to you and want to sponsor posts on your blog.
Imagine that someone will want to advertise on one of my blogs with traffic less than 2,000 visits. 😆 Well, the structure of the blog is premium, so, there are high expectations.
(Side note – just this month in August 2020, someone contacted to promote its services on this site) 😉 

4.  Make Money with your Blog in Nigeria Freelancing
There will always be a need for only [the best] freelancers. For you, all you need to do is position yourself as one.
First, get a LinkedIn account and link your blog and put out some good content.
Note, do not rush over important things. Take time to google how to properly set up a LinkedIn account. That way you can get lucky and be featured/found on LinkedIn searches.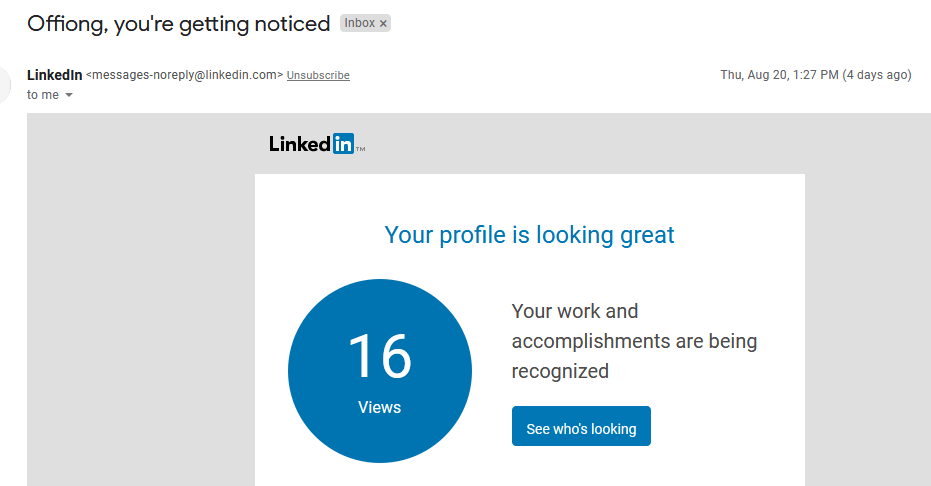 When done, come back to your blog and create a "hire me" page.
I once made it pubic, see my sample here, but I took it down due to busy schedules.
Again, after creating the "hire me page" on your blog, be sure to write on LinkedIn that you're a freelancer and you are open to working with clients.
Want an example? For me, I write ultimate guides – 2,500+, but I've got no time for that for now. But be sure to learn from Akinduyo Eniola of Guruscoach.com.
5.  Make Money with Your Blog in Nigeria through Partnership
One influencer with an audience of more than 25,000 saw my post on course hosting platforms comparisons and was excited, so, he called me up to talk more about it on his platform. 😉 
You can get the same experience. Just love what you're doing and put in the work excitedly.   
6.  Make Money with Your Blog in Nigeria through Personal Contact to promote products
I woke up on the 1st of August 2020 to see a consultation to promote an affiliate product. I think I shared it in our telegram group.  That can also be your thing. Just put in the work now.
7.  Make Money with Your Blog in Nigeria by creating a course
Gracefully, I have gathered some bad-ass insights through failures on blogging that I can create a course and relates to us.  
That will be time-consuming as I would want it to be a video course. For instance, I will include advanced stuff you might not get anywhere.  
Just in case I will create "a course on blogging in your pajamas", I already made a video review on how I optimized one of my money articles to jump from page 2 to number 9 on page 1. And currently, it is at number 4.
What am I currently testing?
I am experimenting featured snippets, and of course, I have 4 more blogs to write 100 blog posts each, so no time for now for a course unless otherwise.
8.  Make Money with Your Blog in Nigeria when hired
I'm super excited, you know why? When the Grace of the Lord is sufficient with your hard work in place, rooms and opportunities will always open to you; where you appear as being lucky.
Just imagine that I woke since 11:43pm and it is 6:15am the next day, yet I am not through, doing what exactly? Writing this case study.
Just this month (August 2020), an Australian Magazine site with a monthly traffic of 800k contacted me to become one of their content writers. That is, working from my country wasn't a problem.
In case you call it luck. I do think that none of these would have happen if I was sleeping in my blankets and not doing the needful.
So, if you love your job and value your audiences as I do
, you can get hired which the source of exposure will be via your blog.
We are almost done. The very last. How to start blogging in Nigeria.
How to start blogging in Nigeria in 3 steps
To start blogging in Nigeria, you need just 3 things. #1. You need a domain name #2. A hosting service, and #3. A CMS – software to build your blog.
With IsuaWealthyPlace you will get 2 things for free, meaning, you will pay for only 1 – hosting service.
Domain name costing $9+ is free for you.
CMS to use and build your blog is free – WordPress
All you will need to pay for is a hosting service, that is, a service that will make your site active and working.
To get all these, we will head over to HostGator.com and pay for a hosting fee which is cheap as you can start your blog at $2.75 only per month.
Based on firsthand usage, as far as you're a beginner or your blog receives less than 60,000 visits a month, HostGator is cheap and capable to give you value for your money.
To succeed see below.
How I built a 7-Figure Blogging Business from Scratch – Copy my strategy

🛑 Listen now: Do you #1. want to earn in dollars and withdraw with high exchange rate to Naira #2. want to generate both Active & Passive income #3. want to make money with affiliate marketing working with personal and international brands with 100% FREE Traffic?

If yes,➡️ click here to check out the AMBBProgram + how I made ₦400K in one day.
How to double your income with Ads
One of the ways to double your income if you will like to make money with Google AdSense is to go for another PPC ad network that pays more than Google.
After getting approved on AdSense, go ahead and try out Ezoic as you get up to 3X of what AdSense pays.
What I Did Wrong on my first $100 Online Journey?
#1. Joined too many Affiliate Programs
As a beginner, I was too excited to jump at every shiny object all in the name of affiliate promotion.
Just as I am doing this in another niche, I am selective of the programs I promote. I like it a few so I can follow them up.
#2. Not Keeping Records
It was a mess as I have lost access to some earnings due to
this – no accurate records of the programs I was promoting.
Again, I am well placed not to act like a newbie anymore. An accurate record is good as it helps you track your sales – know what is working and what is not.
Simple tools like Google Sheet or Excel can do the job.  
#3. Promoting Low Paying Programs
Yes, most of the programs I was promoting paid 10% or a
little bit more. At times I would earn $9 for my effort which was not too good.
However, as I went on I was greeted with a $46+ commission product.
You can imagine that I made 3 sales with this product and made $100+ #Breakthrough.
The lesson is, it takes almost the same effort to promote low and high-ticket affiliate programs. So, choose wisely.
And if you are looking at the top programs to promote, see the top 120 affiliate programs. 
#4. Not Blogging as a Business
Perhaps while I hated Ads on my blog I would have thought of the cost of maintaining it being that I used a local company that overcharged me.
If I had known I would be charged $50 per month to keep a
blog with an average of 800 daily users then I would have used Google AdSense
from day 1.
If I am doing that now, I have a super reliable hosting company to use or an affordable hosting company I've used as well.
Secondly, I would combine both Ezoic and AdSense for more money.
One Piece of Experience Advice as You're Coming In
Because there are so many blogs and websites about blogging on the internet, it can be tough to distinguish your blog from others.
Whether you are starting up a new website aimed at bloggers or looking to make your existing blogging site more distinctive, the key to building and maintaining a site that will capture the interest and attention of the blogging community is finding your niche – voice.
 If you can fill a unique need in a way that no other website does, then you'll be able to build a lasting readership among web surfers.
Conclusion on my first $100 Blogging Online
While the core concentration was not on "how much you can earn as a blogger in Nigeria, the point was to show you a breakdown of my little beginnings and mistakes along the way to avoid and do even better.
I hope this made sense to you. Let me know what you think if you have any questions.
➡️➡️ click here to check out the AMBBProgram + how I made ₦400K in one day.
Ref: income reports.
Graphics: Canva.com | Image Tools – TinyPng.com & Compressor.io Corrections: Grammerly.com